国际超级网红讲述创建网络频道
International super Big V: Create internet channel

中国大陆YouTube频道订阅人数排行榜
                 (截至2020年7月18日)



频道名称

Internet name

粉丝数量

Number of fans

影片总数

Number of videos

总观看量

Number of playing

1

李子柒 Liziqi

11,400,000

112

1,570,584,063

2

办公室小野官方频道

Ms Yeah Official Channel

9,130,000

177

2,204,393,907

3

滇西小哥

Dianxi Xiaoge

5,590,000

182

1,315,317,543

4

The Food Ranger

美食游侠

4,300,000

299

622,598,368

5

老高与小茉

Mr & Mrs Gao

3,120,000

143

530,447,152

6

美食作家王刚

1,500,000

547

352,444,703

7

李永乐老师

1,390,000

322

135,110,143

8

阿木爷爷

Grandpa Amu

1,200,000

241

216,520,532

9

Naomi'SexyCyborg'Wu

1,160,000

222

191,825,206

10

周六野Zoey

905,000

126

82,620,689

11

冒险雷探长

677,000

275

80,891,171

12

花花与三猫

Cat Live

638,000

170

172,187,756

13

龙梅梅Longmeimei

606,000

89

112,315,110

14

拜托了小翔哥

602,000

365

196,168,188

15

敖厂长

524,000

315

110,032,703

16

甜悦Tinrry

506,000

162

47,680,886

17

仇仇qiuqiu

462,000

240

27,448,995

18

Papi酱

416,000

349

98,072,553

19

纳豆奶奶

334,000

110

37,499,189
一.关于美食游侠(吃货老外)
  About The Food Ranger
特雷弗·詹姆斯,出生于加拿大的美食与旅游视频微博博主,YouTube 名人,在YouTube上也被称为" 美食游侠 (吃货老外)"。他以YouTube上的街头美食之旅而闻名,其视频浏览量达4.1亿次。詹姆斯从2013年3月开始拍摄他的美食和旅行视频,不久其频道的订阅数便已超过400万。
Trevor James, also known as "The Food Ranger" on YouTube, is a Canadian-born food and travel vlogger and YouTube personality. He is famous for his street food tours on YouTube, which have been viewed over 410 million times. James started filming his food and travel videos in March 2013 and his channel has soon grown to have over 4 million subscribers.
詹姆斯2008年到2014年在不列颠哥伦比亚大学(UBC)学习林业和自然资源保护。大二那年他来到中国四川成都,在这里他创建了他的YouTube频道,即美食游侠(吃货老外),并大获成功。2019年11月詹姆斯移居马来西亚吉隆坡继续其美食游侠YouTube频道。
From 2008 to 2014 James attended the University of British Columbia (UBC) studying Forestry and Natural Resource Conservation. In his sophomore year, he moved to Chengdu of  Sichuan province, China, where his YouTube Channel, The Food Ranger, was born and heavily influenced. He moved to Kuala Lumpur, Malaysia, in November 2019 continuing his YouTube Channel, The Food Ranger.
其实,詹姆斯早在2013年初从新加坡到北京为期四个月的旅行中便开始拍摄他最初的YouTube视频。他曾在马来西亚、印度、土耳其、越南、印度尼西亚、泰国、新加坡和墨西哥拍摄美食和旅行视频。
In fact, James began shooting his first YouTube videos in early 2013 while on a four-month trip from Singapore to Beijing. He has once filmed food and travel videos in Malaysia, India, Turkey, Vietnam, Indonesia, Thailand, Singapore and Mexico.
刚到中国时,詹姆斯在成都的西南财经大学攻读商业与国际贸易硕士学位。2016年8月,詹姆斯放弃硕士课程,并考取了四川旅游学院高级烹饪系,一个学期后退学,全职从事YouTube。
When James first moved to China, he was pursuing a master's degree in Business and International Trade at the Southwestern University of Finance and Economics in Chengdu. In August 2016, James dropped out of his Master's program and enrolled in the Higher Institute of Cuisine at the Sichuan Tourism College, dropping out after one term, pursuing YouTube full-time.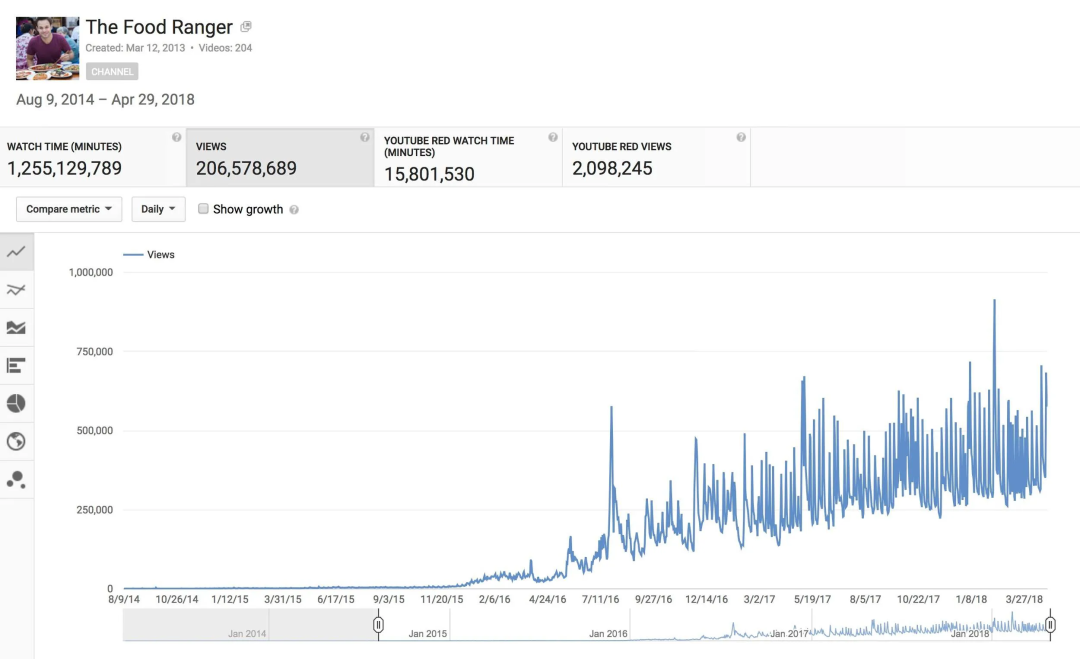 二.国际超级网红美食游侠(吃货老外)教你怎样创建Youtube频道
 International super Big V: how to create a YouTube channel
特雷弗·詹姆斯是个非常友好、热情、充满活力的小哥。他说:
"很多人问我如何创建成功的YouTube频道。以下是我最喜欢的3个资源,这些资源帮助我将我的频道发展到今天的规模。"
Trevor James is a very friendly, warm and energetic young man. He said: 
"A lot of people ask how I created a successful YouTube channel. Below are my top 3 favourite resources that helped me grow my channel to the size it is today."
关于怎样创建Youtube频道,特雷弗·詹姆斯说道:
Regarding how to create a YouTube channel, Trevor James said:
"If you're curious how I've done it, check out my guide on How to start and grow a YouTube channel here. I break down how I grew our channel so fast and how you can do it too!
如果您想知道我是如何做到的,请在此处查看有关如何创建和发展YouTube频道的指南。我将分题解释我是如何快速发展我的频道以及你如何也可以做到!
HOW IT ALL STARTED 这一切是如何开始的
Sometimes I can't believe we are actually doing this as a job! It's crazy how things happen, when you start working towards a goal, in the very beginning it seems like an unclimbable mountain, but when you start taking step after step up towards the peak, you realise that anything is possible!
ALL I WANTED TO DO WAS EAT STREET FOOD!
有时我简直不敢相信实际上这是我们正在做的一项工作!而事情是如何开始的,真是太不可思议了,当你开始朝着一个目标努力时,一开始似乎就像是一座无法攀登的山峰,但是当你一步步迈向顶峰时,你就意识到一切皆有可能!
我想做的就是品尝街头美食!
Today, we are creating street food videos for you full time and loving every minute of it. When I first started making videos in 2013,  I had this dream of supporting myself full time and being able to travel forever by creating street food videos (and eating!)
今天,我们正在全职为你制作街头美食视频,并享受着其中的每一分钟。当我于2013年首次开始制作视频时,我曾梦想着全职养活我自己,并能够通过制作街头美食视频(还有吃饭)使我得以永远旅行。
After a couple years and after moving to Chengdu, China in September 2014, I had shot about 50 videos and had about 3000 subscribers on YouTube, I realised that this goal was entirely possible!
过了几年,2014年9月来到中国成都后,我拍摄了大约50个视频,并在YouTube上拥有约3,000个订阅者,此时我意识到这个目标是完全有可能实现的!
HOW I GREW MY CHANNEL TO 3M SUBSCRIBERS
我是如何将我的频道发展到三百万个订阅者的
In the very beginning, and before I met Ting Ting, I did it all completely broke. I moved to Chengdu in 2014 because I wanted to taste the food and explore and live a life of adventure, but I couldn't really afford it. After graduating from university at UBC in Vancouver in 2014, I found a scholarship available that lets you study in China and gives you a monthly living stipend. It was perfect! I could live in China, shoot food videos, and learn the language all at the same time.
最初在我遇到婷婷之前,我做的一切都彻底泡汤了。我于2014年来到成都,因为我想品尝美食,探索并过一种冒险的生活,但我实在负担不起。 2014年从温哥华UBC大学毕业后,我发现有一项奖学金可以让你在中国学习,并每月获得生活津贴。太棒了!我可以住在中国,拍摄美食视频,同时学习语言。
And to make a little more cash for traveling and eating, I taught English on the side. Whenever there was a holiday, like Chinese New Year or summer break, I would fly to a new destination to go Foodrangin' and find the best local food! I discovered that I had an intense love for durian and all of its varieties in Malaysia. I met Ting in Turkey in July 2015. We started traveling together around Turkey and now in 2019 we are married!
为了多挣点儿钱来旅行和吃饭,我一边也在教英语。每当有假期,例如农历新年或暑假时,我都会飞往新的目的地去品尝美食,找到当地最好的美食!我发现我对榴莲及其在马来西亚的所有有关品种都非常喜爱。2015年7月我在土耳其遇到了婷婷。我们开始一起在土耳其旅行,现在呢,我们在2019年结婚啦!
When I was first starting out in Chengdu and before I met Ting, a friend of mine helped me film the first few videos. We had a lot of fun together exploring the back lanes of Chengdu for delicious food to eat. He really helped a ton behind the scenes. I fell in love with the process of planning, shooting, editing, and posting. It gave me a good idea of what being a creator on YouTube was like, and I wanted to keep going and create more and more.  It took a couple years to get a base of subscribers, but I knew that I could do it if I kept pushing.
当我在成都开始创业时,在遇到婷婷之前,我的一个朋友帮我拍摄了最初几部视频。我们一起在成都的小巷里寻找美味佳肴。他幕后帮助很多。我迷上了策划、拍摄、编辑和发布的过程。这让我对在YouTube上成为创作者有了很好的认识,我想继续努力,并创造出越来越多的作品。我花费了几年的时间有了一批基本的订阅者,但是我知道如果我继续努力我就可以成功。
Our Goals我们的目标
When I first started making videos on YouTube, all I wanted was to be able to travel forever and eat forever in different countries around the world. Now, after a couple of years of actually doing it and after feeling the freedom of being able to fly wherever we want and whenever we want, my goals have changed. I've decided that apart from traveling and eating, I also want to inspire people and put some positivity out there in the world, showing people that the world is truly a beautiful place, full of friendly people and that it's not as scary as a lot of the media makes it out to be. I want to show people that traveling through food is the best possible way to experience this friendliness. We have experienced this all over the world and I try to show it in every video we produce. While doing this, I've created valuable resources for travellers like you.
当我刚第一次开始在YouTube上制作视频时,我所希望的就是能够在世界各地永远旅行在不同的国家和吃在不同的国家。现在,经过几年的实际操作,并且在能够自由飞到我们想要去的任何地方以之后,我的目标已经改变了。我已经决定,除了旅行和进餐外,我还想激励人们,并给世界带来一些正能量,向人们展示这个世界确实是一个美好的地方,到处是友善的人,没有很多媒体说的那么可怕。我想向告诉人们,通过美食来旅行是体验这种友善的最佳途径。我们在世界各地都有过这样的经历过,我尝试在我们制作的每一个视频中进行展示。在此过程中,我为像你这样的旅行者创造了宝贵的资源。
My goal is to also help you find delicious food when you travel in China and around the world. I've also written about many best vpn for china options that help you when you arrive in China and need to use social media. China is one of my favourite countries to visit in the world, and I've also mapped out hundreds of the best restaurants for you to visit when you visit.
我的目标是在中国和世界各地旅行时帮助你找到美味佳肴。我还写了很多在中国最好的vpn选择,这些选择可以在你到了中国并需要使用社交媒体时对你有所帮助。中国是我在世界上最喜欢去的国家之一,而且我还为你计划了数百家最好的餐馆供你前往参观。
Why did I move to Chengdu?
我为什么来到成都?
I moved to Chengdu for one reason: the food. I first came to Chengdu in 2013 while solo backpacking around China in between semesters at university and immediately fell in love. There was this magical feeling on the streets that I couldn't get enough of. It was the happiest and most chill place I'd visited in China; people seemed to move slower than other cities and I noticed that people just seemed happy. And then I tried the food. The glorious chili oil wontons, hongyouchaoshou, were out of this world. The massive tables full of spicy and xiang delicacies were enough to move to Chengdu for.
我来到成都的原因是:食物。我第一次来到成都是在2013年,那时我在大学两个学期之间独自背包环游中国,并立即坠入了爱河。街头有种我无法抵抗的神奇感觉。这是我在中国去过的最快乐、最寒冷的地方;人们的脚步似乎比其他城市都慢,我注意到人们看起来都很快乐。然后我品尝了那里的食物。红油馄饨、红油炒手横空出世。丰盛的餐桌上摆满了麻辣和湘菜,这足以促使我们到成都来。
I couldn't believe the flavour. I decided that I would move here after graduating university. The next couple years at school went by way too slow; I couldn't wait to graduate and move to China and start filming and eating!
我简直无法相信这种味道。我决定大学毕业后到这里来。接下来的几年,在学校过得太慢了。我迫不及待地想要毕业并到中国来,开始我在中国的拍摄和进餐!
Growth 发展
It's been a wild ride watching the insane channel growth over the last 5 years. Viewership peaks that I thought were massive at the beginning are now at the baseline.  We've put in a ton of hard work to the channel and it's been insane watching our subscribers grow! Sometimes I can't believe it, it's hard to conceptualize how many people are watching these videos!
过去五年来,疯狂发展的频道真是太疯狂了。我认为一开始达到顶峰的的收视率在现在只是基线。我们为该频道付出了大量的辛勤工作,眼看着我们的订阅者在增长,真是太疯狂了!有时我简直不敢相信,很难想象有多少人在观看这些视频!
As we keep going, my goal is the same as it's always been:
To travel and eat and share how friendly people are all over the world.
And of course I'm going to keep writing these food guides and creating street food tour videos for you to help you find the best food when you travel!
在我们不断发展的过程中,我的目标始终不变:
去旅行,去吃饭,去分享世界各地人们的友善。
当然,我将继续写这些美食指南,并制作街头美食旅游视频,以帮助你旅行时找到最好吃的食物!
Thanks a lot for reading! Make sure to check out my full on street food guides, where we bring you deep for the best street food around the world! I'm sure they will be useful for you as you travel for food!
Thanks a lot for reading!
非常感谢你的阅读!请务必查阅我完整的街头美食指南,我们将带你深入了解世界上最好吃的街头食品!我敢肯定,当你外出吃饭时它们对你很有用!
非常感谢你的阅读!"

"杨老师汉学"有3个栏目的内容
(请点击顶部蓝色"杨老师汉学"阅读更多)
There are 3 sections in "JYangSinology"
(Please click the blue"JYangSinology" 
  on the top and read more)
1.教学栏Teaching section
课堂辅导Our lessons
基本句型Sentence paterns
专业汉语Special Chinese

时政汉语Current Affairs Chinese1

时政汉语Current Affairs Chinese2
2.文化栏Culture section
中国知识About China
武术太极Martial arts & taiji
成语故事Idioms and stories
形象表达Vivid expressions
诗词歌曲Peoms and songs
3.信息栏Information section
关于本公众号About JYangSinology

汉语知识Chinese language
HSK汉语水平考试
量词缩略Measure words & Abbreviation
轻松聊天Free talk
学习汉语的课堂;了解中国的窗口
A Classroom for Chinese Learning;
A Window for Knowing China